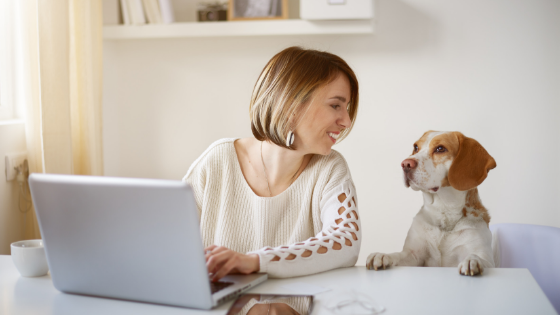 12 Great Online Pet Business Ideas for pet lovers looking for results
Looking to start an online pet business? Great! We have brilliant online pet business ideas just for you. Pet business is big business; no doubt The American Pet Products Association (APPA) reported that Americans spent 66.75 billion and 69.51 billion on pets in 2016 and 2017 respectively. Our love for pets has come a long way; man has had dogs and cats as pets for as far back as the hunting and farming eras. 
Pets have come into our homes to stay, permanently, and every year the demand for pet products and services increases, creating a big business opportunity for entrepreneurs. The market for pets, pet products and services is enormous, 3 out of 5 households in America have at least one pet.
People love their pets and would spend handsomely to get products and services for their animal companions. The most popular pets are dogs and cats; however, some people have developed a love for fish, reptiles, birds and many other animals that they keep as pets. These pets are considered members of the family by many owners.
Before choosing what online pet business idea you want to adopt you must have a passion for pets and business or at least for business. It is also important that you do more research (as you are doing now) about the pet industry. 
The pet business has two main sectors, pets and pet products, and pet services.
Here are some brilliant online pet business ideas to bring in wealth.
Online Pets shop
The American Pet Products Association (APPA) reported that Americans spent about 2.1 billion dollars on live pet purchases in 2018. If you are passionate about pets and business you can start an online pet store to sell live pets and reap a great fortune. You can choose to sell only pets or mix it up with pet products, like pet food, cages, and common drugs. 
As a beginner focusing on one aspect of the business is advisable, you can expand into other aspects as you gain experience. Starting an online pet store or pet business that sells a variety of pets or pet products is a straightforward endeavor, but like all businesses it needs planning. Draw out your business plan, raise your funds, and get suppliers for your online store (companies that train or breed different types of pets). Create a nice eCommerce website, draw out a marketing plan and begin receiving orders from your clients. Ensure that you use a safe and efficient means of delivering the pets and products to your clients. You can enter into drop shipping agreements with your pet suppliers.
Starting a pet store will mean answering questions about pets, you would have to constantly keep yourself and your team informed about all the trends and become conversant with the frequently asked questions about different pets. Keep your website updated with high-quality images and videos of your pets and products to attract and keep the attention of clients.
Online Pet products
Starting an online business that makes and or retails pet products is very lucrative; there are numerous manufacturers of pet products that can serve as your suppliers. Many of these companies carry out drop shipping, so your clients get their products straight from the manufacturer. There are varieties of products that you can sell online, here is a list to help you chose. You can stick to one product like food or choose to sell many pet products on your online store. 
Online Sale, and delivery of Pet food
Pets like humans consume a lot of food, for pets to remain healthy; they must consume special food that caters to their unique health needs. According to The American Pet Products Association (APPA), Americans spent 28billion Dollars on pet food in 2016 alone. They spent 29.01billion dollars and 29.88 billion dollars in 2017 and 2018 respectively. You can cash in on this by creating an online platform for the retail of pet food. You can also create an online platform that buys and delivers pet food for an extra fee. People can order different types of pet food on your platform and you get it across to them.
Start an online pet boutique
Yes, pet fashion is a real thing that brings money; people like to show off their pets in beautiful pet clothes and accessories when they take them out. Pet lovers can cash in on this market by creating an online business that displays the latest pet fashion products, pet owners can place orders and buy pet fashion from your site.
Dog clothes are especially a very big deal, by displaying high definition pictures and videos of dogs wearing the latest pet fashion you get even pet owners who have not tried buying clothes for their dogs to try it. Most dog clothes manufacturers in China, the USA, and the UK operate drop shipping. You advertise their products on your site, your customers pay you, you pay them and they ship straight to your customers.
In addition to dog clothes, you can also incorporate other doc products on your site there is a whole market of pet products supplies and accessories. Other pet products, accessories, and supplies for your online pet shop.
Cat and dog toys
Dog collars
Dog leashes
Grooming equipment
Dog bowls
Aquariums
Start an online Dog Treat Business
Dogs are like children and family to many owners and they regularly shower them with all kinds of treats. Dog owners and trainers also use treats as rewards when teaching their dogs to perform certain tasks. If a dog does well it is rewarded. As an entrepreneur, you can create an online business that provides these treats to dog owners. Pet owners can order treats on their devices and get them at their doorsteps.
 Online Pet services 
The needs of pets like dogs and cats as domestic animals have surpassed simple eating and drinking, pets require several services just like their owners. Pets like dogs need a healthy amount of physical activity, this the walking of dogs, pets need veterinary services, immunizations, and checkups. Pets need grooming which involves, bathing, shaving of fur, trimming of nails, removal of ticks, etc. Pets like dogs need to be trained according to the wishes of the owner to certain new standards. All this and other services needed by pets today open up business opportunities. Here are some online pet business ideas that can provide these services that are in high demand.
Online Pet-Sitting business
Pet sitting is like babysitting but for pets, it simply means looking after or caring for a pet when the owner is away for short or extended periods. Some pet owners prefer that their pets are looked after and fed at home when they are away. This is where the business comes into play. Pet lovers can create online platforms where pet owners can request for this service. This service can be customized to fit the pet owner's desires. If they want their dogs to be fed, walked and groomed they pay higher than those who want basic feeding and cleaning of dog waste.
Pet lovers who want to go into the pet grooming business can connect with young people around the community who are willing to earn money watching over pets while their owners are away. There are a lot of things that can go wrong if you request that a neighbor watches over your pet while you are away, but entering into a business agreement and paying for that service gives you guarantee your pet is in good hands. 
Dog Training business
Entrepreneurs who are passionate about pets can start dog training centers and create online platforms to connect dog owners to dog training services or personal dog trainers. Many dog owners desire to train their dogs to carry out certain activities or respond to certain commands. Dogs can be trained to be guard dogs, hunting dogs, sport dogs and to obey several commands. Dog owners pay well for these services.
Dog Daycare business
Start and take your dog daycare business online, dog owners who have to leave their dogs or cats for long periods usually need to drop them off at a safe place where they can be taken care of and also enjoy the company of their kind.
Creating a dogging daycare is somewhat like creating a baby daycare; you need to have the necessary knowledge to take care of the pets in your daycare. You might need to frequently consult veterinary doctors if you are not one. You will have to decide what pet owners bring when they drop off their pets so you can determine what supplies to have in your daycare. Some daycare owners include feeding and grooming and emergency medical care in their services. While some offer only to watch over the pet while the pet owner is away. They simply feed your pet until you return to pick them up.
Dog grooming business
Just like human beings, our pets also need to be groomed often; their fur needs to be shaved. Their nails need to be clipped and foreign bodies removed from their skin. Some pet owners prefer to groom their dogs themselves because it forges a bond between the dog and the owner, but in most cases, professional dog groomers do a far better job and leave the owner convinced that grooming should be left to the professionals. Dog grooming when done properly can easily hook the dog owner and keep them using your service. As pet-loving entrepreneurs seeking to start an online pet business, pet grooming should be on your list. 
You can do one of two, connect pet owners to pet groomers with your online platform or train your pet groomers, who carry out the jobs requested on your platform by pet owners. You could also choose to include home service to your list of services. To start a dog grooming business, you will need to learn the skill, which is quite easy, then get supplies like combs, nail clippers, tick removers, special bathing liquids, shedding blade, etc.
Dog walking business
Like human beings, dogs need a healthy amount of physical activity to keep fit and healthy. Walking your dogs to parks and letting them play a little helps them both physically and mentally. Dogs that go out often to play are usually more active than caged dogs. Dogs that are caged for too long tend to be unnecessarily aggressive sometimes even to their owners. There is a high demand for dog walkers; people who are good with dogs, who can fulfill that need for dog owners who have a tight schedule or for another reason cannot walk their dogs themselves.
Pet lovers, who are interested in creating an online pet business, can create a platform to connect dog owners and dog walkers. They can offer an easy and efficient way for dog owners to request a dog walker near them and pay for that service. Charging for dog walking can be done daily, monthly or even yearly, with terms and conditions for unforeseen circumstances.
Dog beds, kennels, and aquariums
Dog beds, kennels are a must-have for all dog owners. They come in different shapes and designs and have different functionalities. Aquariums the house pet fish is also a very lucrative pet item to sell on the internet. Pet products manufacturers offer discounts for people buying their supplies in large amounts, they also offer drop shipping for people who want to advertise their products on their online platforms. 
Selling dog beds and kennels or aquariums as a stand-alone online business gives you a niche advantage. Every dog owner needs a dog bed and kernel; these items are always in demand.
The future and other online pet business ideas
As time goes on and the love for our pets continue to swell, pet business, like pet photography, pet insurance, pet cemeteries, and funeral services will become big businesses. Human beings are naturally wired to need companions and as pets continue to fulfill that need, humans will continue to spend money on their well-being. The internet provides us with all we need to leverage on this romance between humans and their pets and make wealth. Start your online pet business today.